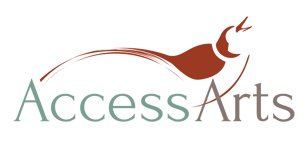 Adult Ceramics Studio Policy
Access Arts' mission is to make art more accessible to the underserved and provide creative learning opportunities to the whole community. Our goal is to provide an encouraging atmosphere to enhance the experiences of students in our professionally equipped facilities.
Cone 6 Stoneware is the studio clay for all classes at the 800 Moss St. studio. If students wish to use a different clay, they must receive permission from the Studio Manager, Maggie Adams.
Open Studio hours (times for independent practice outside of class) are available to students as part of their class registration. Open Studio hours are as follows during class terms:
Mondays and Wednesdays: 10:00 am – 1:00 pm

Saturdays and Sundays: 11:00 am – 4:00 pm

There are no Open Studio hours between class terms. This is the time we utilize to fire kilns and prepare for the next session.

Students are encouraged to make as many pots as they like to keep or sell, however, the class fee only covers a certain amount of supplies:
Students are responsible for their own clay. At the beginning of each session, one 25lb bag of clay will be given to each student. Each student may re-use, re-wedge, or forfeit whatever clay is put into reclaim. Unused clay will not be refunded at the end of each session but may be given or sold to classmates.

Once the student has run out of clay they may purchase more by check or online where class registration is located ($35/25lbs). You may only retrieve more clay DURING your class time (NOT during Open Studio hours).

Firings and glazes are included with the price of clay.

Students are not allowed to adjust glazes or make new ones. Students may purchase commercially made glazes and underglazes from Amaco. These have been test-fired and are permitted. All changes or issues with the glazes must be addressed by Maggie Adams.

Students are given an apron to use during the class session. At the end of the session, the apron should be left on their shelf so we can wash them and distribute them to students in the next session. If you wish to keep your apron, they cost $15.

Classes canceled due to weather or illness of the instructor will be made up as soon as possible. You will be notified by the instructor if class is canceled for inclement weather, so make sure your instructor has your correct contact information.
Makeup classes will not be provided for individual students who miss class due to personal reasons. Please plan your schedules accordingly and make the most of your 6 classes and open studio time.
Students must clear shelves at the end of each session. Any work left on your shelf will be discarded.
You will need to pick up your finished work at any open studio times offered at the start of the following session. Open studio times remain the same for each session. If you do not retrieve your work by the end of the 3rd week of the following session (usually about 5 weeks from the date of your last class), we will be discarding it. We will endeavor to send one (1) reminder email to you to pick up your work. However, it is the student's responsibility to collect their pieces by the pick-up deadline OR communicate with the studio manager.
Any questions, encouragements, criticisms, and concerns related to your ceramics class should be submitted via email: clay@schoolofservice.org.
If you have questions not related to clay you can submit them to our office staff at: accessarts@schoolofservice.org
Making and Firing Policies
At Access Arts, we know how difficult it can be to wait for something that you worked hard on and really care about. In order to keep things running smoothly, we ask you to follow these guidelines:
Your instructors will communicate two important dates for your class: Wet Clay Stop Day and Final Bisque Kiln Deadline.

Wet Clay Stop Day is designed to give you enough time to finish your pieces in class. Wet Clay Stop Day means NO new object-making in the studio. You may finish the pieces you have on your shelf using some of the following techniques: Trimming, attaching spouts and handles, slipping, surface decoration, stamping, sprigging, and carving. Any work made after Wet Clay Stop Day will NOT be fired in the current class session.

Final Bisque Kiln Deadline refers to the LAST day a piece can go into a bisque kiln and be ready for glazing in the current session. Any piece NOT on the "greenware to be bisqued" shelf by this deadline will not be finished in time for you to glaze it. If you are taking another class with us, you are welcome to glaze the piece in the following session.

Sometimes work gets rejected due to thickness or issues with glaze on the bottom. This is entirely at the discretion of the Studio Manager when they are loading the kilns. Please listen to your instructors when glazing your pieces, leave a ¼" safety margin on the bottom of your work, and if you have any questions about glazing a piece, seek advice.

Pots must be fired in a way that avoids thermal shock. Loading, heating, firing, cooling, and unloading a kiln typically takes 2-3 days. Please understand this reality and be patient. Students are not allowed in the kiln room without the express permission of the studio manager and may not operate the kilns (this includes lifting of lids).

Thermal shock refers to the potential cracking of pots due to dramatic temperature changes (ex. taking Pyrex from the oven and putting it straight into the fridge).

We will always do our best to make sure the studio functions as efficiently as possible, but things do happen (kilns do misfire sometimes!) We'll continue to do our best in the face of whatever issues arise and keep you informed.
Conflict Resolution Policy
During your class session with Access Arts, if you are experiencing frustration, difficulty, or harassment in the studio, we strongly encourage you to talk to your instructor or inform the Studio Manager. They can be reached directly at: clay@schoolofservice.org.
In the event that students are found violating Access Arts policy, the studio manager will contact the student either in-person or via email about their infraction. If violations continue after this initial conversation, the studio manager may use their discretion to enforce penalties. These may include but are not limited to: dismissal of the student from their current class, suspension of the student from taking future clay classes, or expelling the student from either or both clay studios.
Access Arts is an organization founded on the inclusion of all individuals to experience the arts. Any discrimination, abusive or harmful language, or behaviors against themselves, students, or staff will not be tolerated. Students who conduct themselves in this manner will be expelled from the studio.
If you have any questions please feel free to contact the studio manager at: clay@schoolofservice.org or our office at: accessarts@schoolofservice.org.