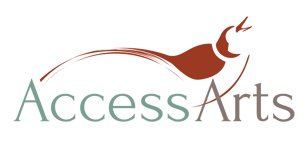 Frequently Asked Questions
CAN I DECORATE THE SPACE?
Yes, you may bring and set up decorations, but be sure to include set-up time in your reservation. Please only use painter's tape to attach streamers or banners to the walls so they are easily removed. You may not put nails in the walls or otherwise alter the physical condition of the space. (If you're not sure if your decorations are ok, just ask us in advance!) All decorations must be removed at the end of your party.
CAN I BRING FOOD AND REFRESHMENTS?
Yes! You are allowed to bring in any food or drink but are also responsible for bringing any plates, cups, and/or utensils, AND for cleaning up of all of these materials. Anything YOU or your party brought, you MUST clean up. We have a dumpster and trash bags that you will be able to use to dispose of the aftermath.
CAN I BRING ALCOHOL?
Yes! You are welcome to bring alcohol but are expected to partake in a healthy, civilized manner. Access Arts staff is not licensed to serve alcohol, so you are responsible for verifying guests' ages. You are also responsible for bringing your own cups/utensils for any food or drink.
CAN I COME EARLY TO SET UP?
Please do not arrive before your scheduled room reservation time. If you need extra time to set up, include that in your reservation time. In addition to the regularly allotted 2 hours, you can add an extra hour to your reservation time for an additional $25. Be sure to consider your setup time when telling your guests when to arrive. Example: If you want your guests to get there at 3 pm, schedule your reservation for 2:30 (or earlier) to allow for set up time.
CAN PEOPLE COME IF THEY AREN'T DOING THE PROJECT?
We have to be mindful of room capacity safety laws. You must disclose exactly how many people will be in attendance, AND how many of that headcount will be doing the project. The number of total attendees will determine your group rate. Please note that the minimum number of participants is 7.
DO WE NEED TO WEAR ANYTHING IN PARTICULAR FOR THE PROJECT?
For all of these projects, you should expect to get a little messy! So, we would encourage you to wear clothes that you don't mind getting a little dirty in, but know that we will also provide aprons and towels for your group.
WHAT CLEANING WILL I BE RESPONSIBLE FOR?
Anything YOU or your party brought, you MUST clean up and remove from the premises. We have a dumpster and trash bags that you will be able to use to dispose of the aftermath. We will handle the clean-up and put-away of all tools and materials used for the art-making.
HOW/WHEN WILL WE GET OUR FINISHED PROJECTS?
For all paint and print projects, you will be able to leave the event with your finished project in hand. If your group does a ceramics project, you will leave the pieces here at our studios, and we will take 2- 3 weeks to glaze and fire the projects to ensure they are food safe (except for the chia pets!). We will then box them up and email you to let you know that the pieces are ready for pick-up. To keep things flowing smoothly in our studio, we ask that one person from your group pick up all of them and distribute them to the others.
WHAT COVID PROTOCOLS ARE YOU TAKING?
Between class sessions, we are deep cleaning and sanitizing the studios. We encourage members of the community to wear a mask if they feel comfortable, and if you are interested in requiring masks of members of your party, please let us know in planning and our staff is happy to comply as well.
CANCELATION POLICY?
The reservation fee is non-refundable after 2 weeks prior to the date of your event. If the schools in the town of the event are closed due to weather, you will have the option of rescheduling your private party to an open date.
WHAT DOES MY RESERVATION FEE GO TO?
Your reservation fee is not an additional fee, it goes toward the total cost of your event. The remainder of the event cost is due one week before the time of your event.
HOW LONG DO THE PROJECTS TAKE TO MAKE?
The projects usually take between an hour to an hour and a half. So if you are planning on bringing food and refreshments, or even gifts and such, you are welcome to use any remaining time to do so! Please let us know beforehand when we contact you, so our instructors can know to anticipate the events of the day.
WHAT CAN I DO WITH EXTRA TIME?
If you have food and refreshments, or even gifts and such, you are welcome to use any remaining time for those activities. You also are not required to use up remaining time, but will not be getting a refund on any of the rental fees ($25 for any additional hours).
PICK-UP POLICY
​Our coordinator will notify you once your party's projects are fired. Once out of the kiln, the finished projects will be held for up to 30 days and can be picked up at Cottle during any Open Studio time.